EL-SHADDAI MOBILE BOOK STALL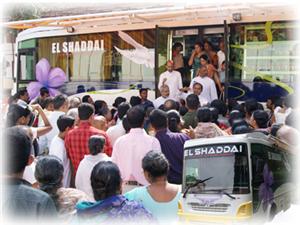 Another means of evangelization of Sehion Ministry is El-Shaddai Mobile Book Stall. This multi-purpose vehicle was blessed by Mar Jacob Manathodath, the Bishop of Palakkad on 5th November 2010. This vehicle has already covered thousands of kilometers. And thus through various medias the Word of God is proclaimed to crores of people. The aim of this ministry is to reach out to one crore people every year. The service of this vehicle is available in the Parish churches of the urban areas and cities with the prior consent of the parish priest. Bible, prayer books, teachings and the history of the Catholic Church, Maranatha -Sehion Publications, other spiritual books, Christian audio-video CDs etc. are available in this mobile vehicle. Walking, seeing and collecting the materials are also conveniently arranged in the bus.
Very specially designed open air stage is arranged in this Multi-purpose bus. Devotional music and preaching of the Word of God are conducted here. This vehicle reaches out even to the remote areas and proclaims the Word of God through medias. El-Shaddai, by the grace of God, is now on the move through different parts of South India.